Global B2B eCommerce is projected to grow to $47.5 Trillion by 2030.  This growth will also translate into higher customer expectations and complex purchasing behaviors. In this article, we talk about the key priorities B2B companies have for their ecommerce operations for 2023. 
Lightning-Fast Evolution in B2B eCommerce Platforms 
Businesses are streamlining their operations and striving for a competitive edge, leading to a swift evolution in B2B eCommerce. B2B business models are undergoing notable transformations, with a focus on prioritizing customer needs as a key theme.
Buyers have defined their top needs and are willing to switch suppliers if these requirements are not delivered, according to a McKinsey analysis. Product availability, a consistent experience across all channels, and rapid access to customer assistance are among these requirements. These elements have a significant impact on the buyer's decision-making process.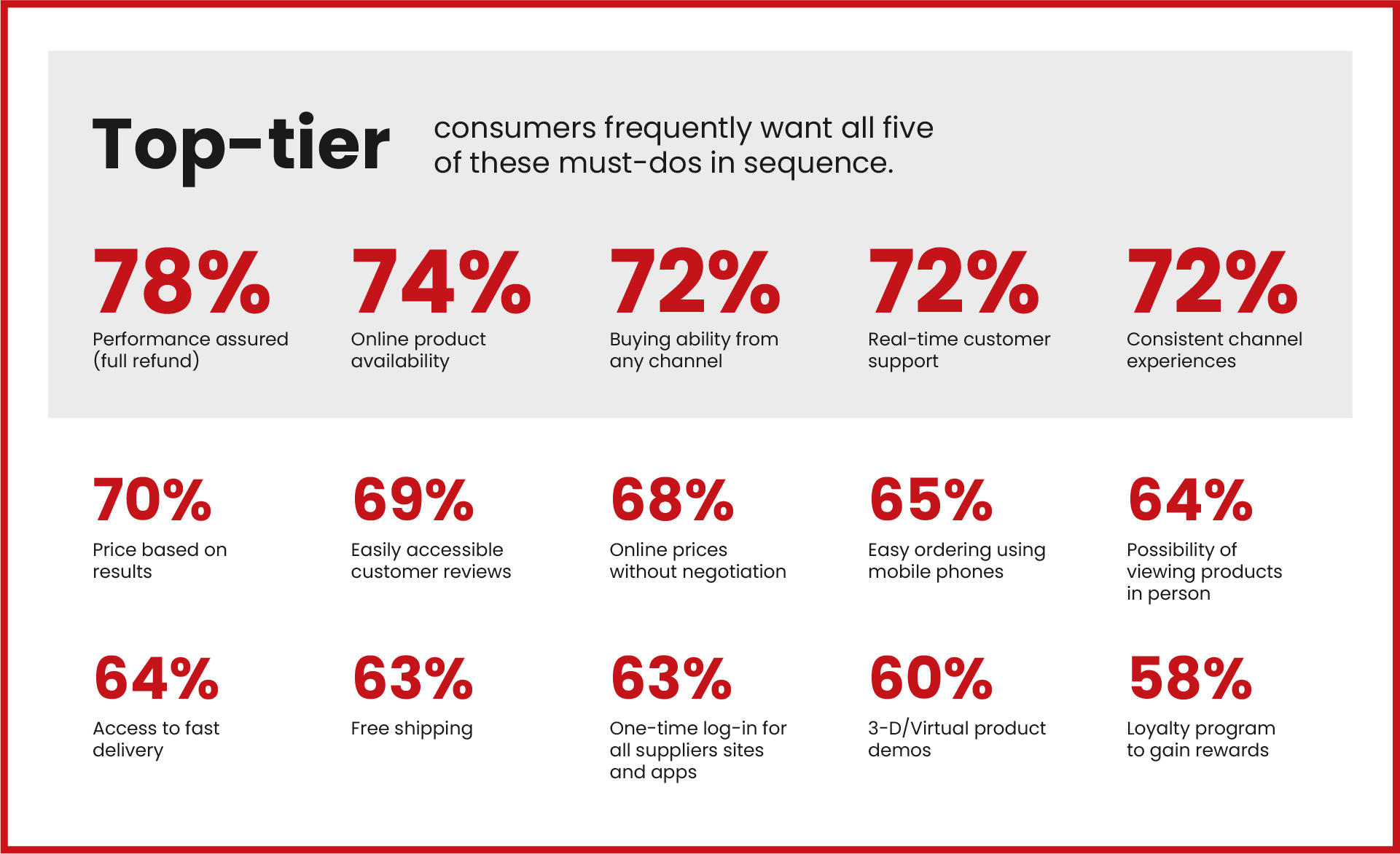 Source: https://www.mckinsey.com/capabilities/growth-marketing-and-sales/our-insights/the-new-b2b-growth-equation
*% of buyers willing to switch if above considerations are not met Rapidly changing client expectations and purchase behaviors will speed the adoption of B2B eCommerce by 2023. Investment decisions will necessitate careful assessment of matching desired technology capabilities with a tough capital market. The following areas are predicted to be high priority for B2B industry players:
1. eCommerce platforms will be top area of investment with focus on lower cost of ownership
Out of the box capabilities of the platform would be in demand. In uncertain times, businesses would prize the importance of getting a concept to market quickly. They would prioritize technology that offers agility, the ability to quickly launch and iterate, and that's what they find with robust out of the box functionality.
2. D2Cfication of entire B2B purchase experience
Create a Self-Serve Capability for Buyers: Self-service remains the leading area for investment as businesses prioritize the customer experience to make it easier for business buyers to reach their goals.  Allowing a customer to place an order anytime, and manage their own account with access to their specific pricing, products, payment terms, and more.



Mobile experience would be the key: According to Forbes, the number of mobile B2B orders increased by 250% in the past three years. It's estimated that B2B eCommerce sales via mobile devices in the United States are going to exceed $710 billion by 2025. Staying mobile-first is an essential trend for B2B eCommerce businesses, as more and more customers expect to be able to shop using their smartphones or tablets.
3. Omnichannel would be the key – Providing a consistent experience across the channels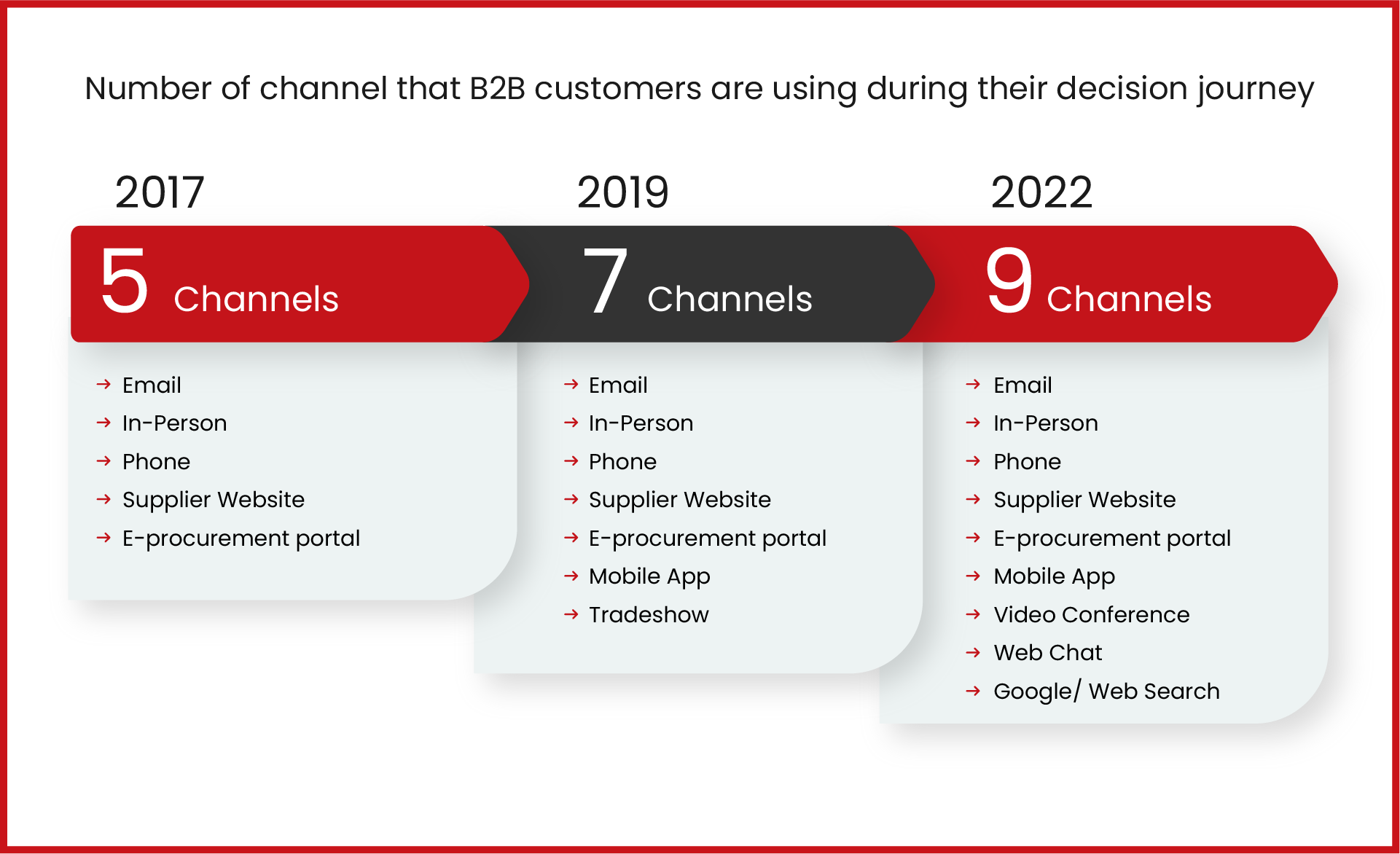 Companies using omnichannel capabilities are more likely to gain more market share.

B2B decision makers are omnichannel customers. They use multiple channels across the purchasing journey and within every buying stage of that. And while some buyers will gravitate toward one-on-one interactions for complex and high-value deals, many are comfortable using digital self-serve for major purchases.

Personalization & Customization: Tailored outreach needs to become the de facto way of engaging across all channels. Providing customers with intuitive interfaces, warm transitions across channels, and speed, transparency and expertise would become major market differentiators.

Chat bots are becoming more and more popular in business-to-business (B2B) eCommerce. They can help engage with customers, keep them up to date on new products, and provide support—all while saving you time and money. Businesses are beginning to implement these technologies to improve customer service and automate repetitive tasks.
4. Integration with existing systems would be key 
While deploying new technology and tactics, B2B brands usually face several challenges. This year, the most significant challenge is integrating existing systems, which is closely followed by the requirement to upgrade legacy systems. Investment in system integration can yield significant returns in terms of greater efficiency, accuracy, and customer satisfaction.
5. Business process automation will further drive efficiencies 
Internal process efficiency must be prioritized during times of uncertainty. Companies are attempting to reduce manual processes in order to improve operational efficiencies. Digitizing processes can aid in the development of a lean and agile organization that is well-prepared to face the challenges that lie ahead. As a result, we expect automation to remain one of the most important eCommerce capabilities.
How can Iksula help?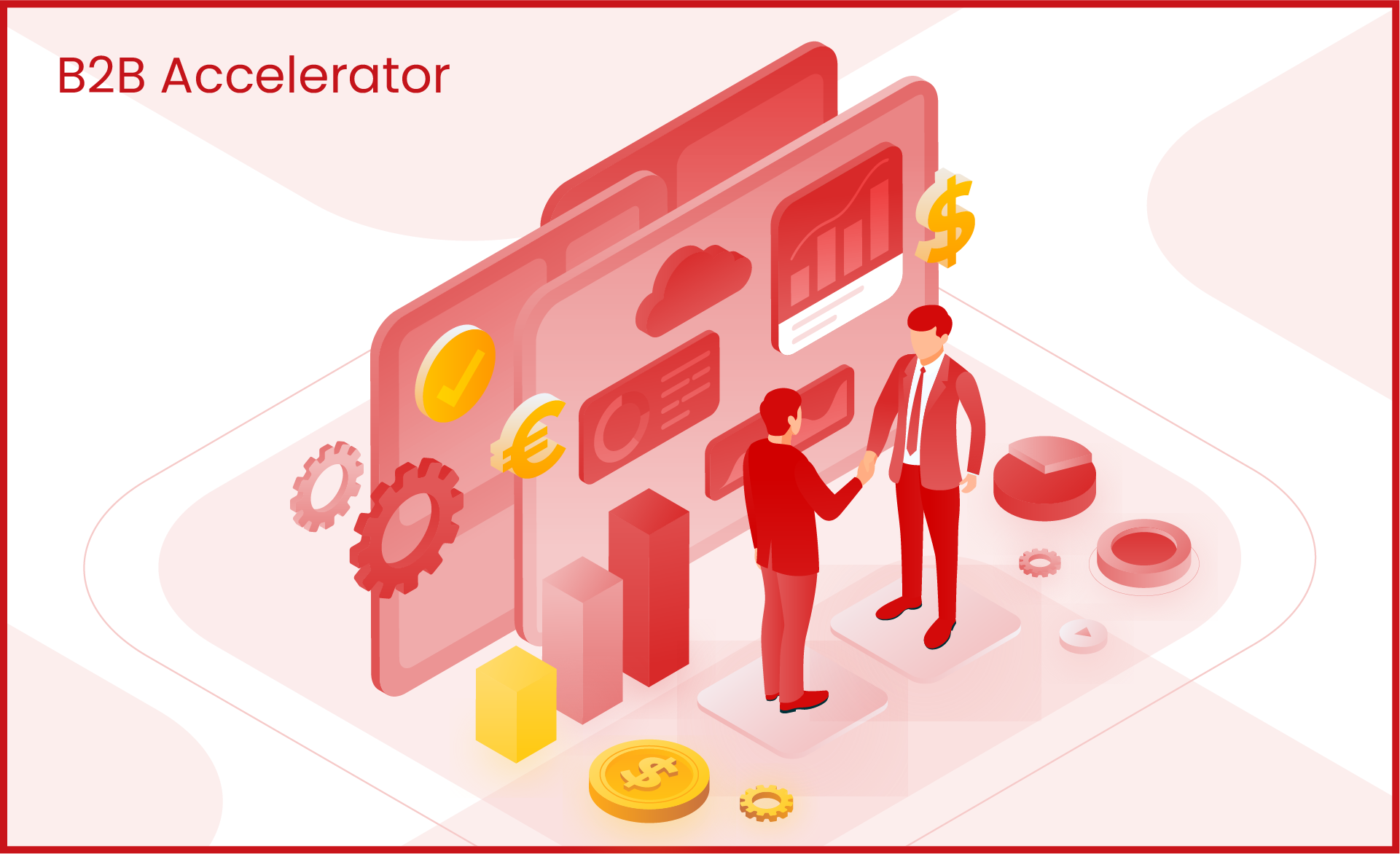 Over the years, Iksula has partnered with numerous large B2B organizations worldwide to assist them in their digital transformation journey. Our B2B Accelerator – a ready-made platform equipped with common capabilities such as request for quote, credit management, bulk ordering, order replenishment, customer-specific pricing, and many others – ensures faster go-live and lower total cost of ownership for B2B organizations. The accelerator, built on top of Adobe Magento, enables businesses with limited eCommerce capabilities to quickly deploy a core solution and then scale up to full enterprise needs once it is up and running.
In addition to technology solutions, Iksula also helps businesses automate various aspects of their operations, including cataloging, supply chain, and finance processes, through the use of RPA, low-code no-code frameworks, and custom development. If you're looking to streamline your business operations and enhance your eCommerce capabilities, contact us to learn more!